Mass Times
Office Hours
Office Hours
Tuesday - Friday, 9:00 AM - 3:00 PM
Come join our Parish Kids for a Spooktacular Trick or Treat Party at Mercatili/Segilia Park on Sunday, October 31st from 12 to 3 PM.
We're planning a fun afternoon of snacks, games, treats and costumes! Our Youth Alpha Group will be helping with the event (along with adult helpers).
So plan to show us your terrific costumes (or just come as you are) and have a great time celebrating with us.
When - Sunday, October 31st
Time - 12:00 pm to 3:00 pm
Where - Mercatili/Segilia Park, 4046 Birney Ave, Moosic
RSVP by October 29th by calling Denise at #570-212-2839. Number of children and ages will be appreciated. And remember......Bring a Friend!!
QAP Up to Date
Posted in Blog on 10/21/21
Pasta Dinner
On Sunday, November 7th, we will be having a Pasta Dinner Eat ... Read More »
Posted in Blog on 10/17/21
Come join our Parish Kids for a Spooktacular Trick or Treat Party at Mercatili/Segilia ... Read More »
Posted in Blog on 10/17/21
The Women's Guild will have their annual Christmas Party on Saturday, December 11th, at ... Read More »
Dear Parish Family,
Though today's Gospel concerns a blind man healed by Jesus and last Sunday's dealt with two disciples asking Jesus for a special place in the kingdom, these two successive passages in Mark have strong parallels. The blind man's name is given: "Bartimaeus, son of Timaeus", as were the disciples last week: "James and John, the sons of Zebedee". Jesus asks both the same question: "What do you want/wish me to do for you? But now the stories diverge. James and John ask for privilege; Bartimaeus asks for pity. The disciples ask Jesus for more than he can give, not understanding, not seeing, how much they are asking for. The blind man, knowing that he can't see, asks for the ability to see. Bartimaeus is willing to make a complete transformation. He tosses away his cloak, which he would have used to collect the coins he was given. Allowed to go his own way, he chose instead to follow Jesus on his way. Even before he could see he recognized Jesus as the Messiah (Son of David) and Master. After his encounter, he became a disciple. How do we answer Jesus' question? "What do you want me to do for you?"
Pope Francis wants to hear your thoughts and dreams about the Catholic Church. The Holy Father is inviting Catholics who are already involved in church life — as well as those who may be on the margins or who have left the church — to voice their ideas and concerns about issues that are important to the Catholic Church today. The pope is calling for the church to practice listening to — and hearing — one another in all facets of church life ("a synod").
The process launches Oct. 17 in dioceses worldwide. On Oct. 10, Pope Francis celebrated Mass in Saint Peter's Basilica to officially open the 2023 Synod of Bishops preparatory phase. The Most Reverend Joseph C. Bambera, Bishop of Scranton, is inviting the faithful of the Diocese of Scranton to join him in an Opening Mass for the Synod of Bishops on Oct. 17 at 10:00 a.m. at the Cathedral of Saint Peter in Scranton. The Diocesan Mass on Oct. 17 will begin a local listening process in the Diocese of Scranton that will take place over the next six months.
Be sure to send in your Diocesan Appeal Envelope as soon as possible as we move forward supporting the efforts of service and love within our diocese. So far 3.52 % (54 out of 1,536) gave/pledged DAA 2021 here at QAP. Our Goal is $23,000.00
Our Rosary Rally at Healey Park on Saturday at noon was taped and you can see it on our Facebook page. The Knights of Columbus led by Joseph Musto recited the Rosary and prayers. Deacon Jim Rose preached. Probably 30 people attended. Just as we concluded and people were leaving it began to rain and continued throughout the day. Asking Mary to pray for our needs always has effect in achieving any spiritual goals. We ask her to pray for unity in our nation and for an end to abortion in our time.
The Social Concerns Craft Fair was a great event this past weekend. About 22 vendor tables were presenting their incredible crafts. And the ladies in the kitchen hosted a soup lovers delight with a number of different soups, chili and vodka sauce. Ann Jake, Social Concerns Chairperson led the event with her wonderful parish committee. Congratulations ladies!! You were a success.
Finally, please pray for our Alpha groups in our parish. The Adult group, Christ Life meet on Tuesday and the Youth Alpha meet on Thursday evening.
Thank you for all you are and all you do. God bless you and see you in Church, Fr. Phil
ADORATION OF THE BLESSED SACRAMENT
Adoration hours are Tuesdays, 9:30 am to 8:00 pm. Rosary and benediction begin at 7:30 pm. If you have any questions or would like to verify your hour, please contact Ann Jake @ 570-457-3521. If you would like to be a Eucharistic Adorer for any hour on Tuesdays or would like to consider being a backup adorer when we are in need, please contact Ann or the Parish Office at #570-457-3412. The Knights of Columbus will pray the Rosary for Life every second Tuesday of the month from 7:00-8:00 pm. Please pray for all prayer intentions for this day.
We request that all adorers practice social distancing and sanitary practices.

CHOIR PRACTICE - MONDAY, OCTOBER 25TH AT 6:30 PM

ALL CHOIR MEMBERS ARE URGED TO ATTEND! WE MISS YOU!!
Hopefully this is the start of 'back to normal'. We miss hearing you sing and YES people have been asking!!
New members are always welcome.
Fully vaccinated members are not required to wear masks.
Choir members are invited to join the Choir Facebook Group.
Cantor schedules and liturgical music for Masses in Oct, Nov and Dec are posted on the Choir Facebook Page.
Please take time to check this schedule.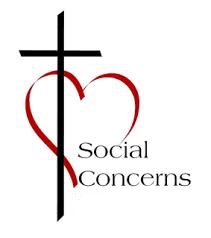 THANKSGIVING FOOD PROJECT
The Social Concerns/Respect Life Ministry is conducting its annual Thanksgiving Food Project. If you or someone you know is in need of a Thanksgiving food bag, please contact Ann Jake 570-466-4693 or the parish office, 570-457-3412. Bags for Thanksgiving donations for the needy will be distributed this weekend and are also available at the entrances to the church. Deadline for donations is November 19 to allow for the preparation and distribution of the food bags for Thanksgiving.
Thank you to everyone who supported the Social Concerns/ Respect Life Ministry's Annual Craft Fair. This year a Soup and More Sale was also held in conjunction with the Fair. Many beautiful items were available from the vendors and much work always goes into preparing for this annual event. A raffle of vendor items was held along with a handmade baby quilt, donated by Marilyn Redington; two handmade afghans, donated by Jane Maxwell and a handmade no sew LIFE IS A JOURNEY blanket was donated by Ann Jake. Also the many menu items, which included additional Broccoli Cheddar and Vegetable Soups and Turkey Chili, were donated by Ministry members. The proceeds from this event will be used to fund many Ministry projects which include supporting Social Concerns and Respect Life issues of the Parish and Community.
Knights of Columbus
Thank you to all who purchased tickets, donated prizes and sold the Knights of Columbus Calendars for the month of October. Drawing began October 1st and can be found on the Cardinal John J O'Connor Council #12967 Facebook Page.
This week's winners are:
October 13 - Rosemary Dougherty, $50 - Arcaros GC
October 14 - Sally Guzil, $50 - GC Main Pool
October 15 - Howard Saltz, $50 - Cash
October 16 - Nicole Brogan, $50 - GC Cwiklas Bakery
October 17 - Barbara Pohutsky, $50 - Brackney Leather
October 18 - John Jadus, $25 - GC Pittston Diner
We will post a list of winners in the bulletin every week. Your support is greatly appreciated!
Respect Life
"40 Days for Life" Pro-Life Rosary Gathering—September 22 to October 29, offered for the special intentions of ending abortion and closure of Planned Parenthood location in Wilkes-Barre; Rosary is prayed each weekday, Monday thru Friday, at 10 a.m. in front of the offices of Planned Parenthood, 101 N. Main St., Wilkes-Barre (across from King's College). Pro-life campaign draws attention to the evil of abortion through prayer & fasting, constant vigil, and community outreach.
The Diocese of Scranton continues to monitor the rapidly evolving health situation regarding the coronavirus. We are constantly monitoring directives from national, state and local officials. This policy will be reassessed on a regular basis.
CATHOLIC MEN'S CONFERENCE
2021 HARVEST TEA
The Women's Guild, along with the Pastoral Council, will again sponsor the Harvest Tea this year. The Tea will be held on Sunday, November 21st at 2:00 PM in the Parish Hall. We need hostesses to sponsor each table. This includes selecting a theme for your table and providing food and refreshments that support the theme. Coffee and tea will be provided. The Tea is open to everyone. The cost to attend is $10.00 per person. Proceeds from the Tea will go to the Marian Award, which gives scholarships to graduating high-school seniors from our parish who are furthering their education. If you are interested in reserving a table, or if you would like to attend, please contact Jane Maxwell at (570) 335-8678, Chrissy Wastradowski at (570) 466-4676, or the parish office at (570) 457-3412.
CNA DAILY
COMMUNITY
JOB OPPORTUNITY
Sunshine and Rainbows Child care in Moosic (Greenwood section) is looking for Full and Part-Time staff. Do you enjoy working with children and have a large amount of patience? The facility cares for children from infants through school age.
The administrator offers good pay, paid vacation & holidays, bonuses & opportunity for continued education through state funded programs. If you've been considering a degree in Early Childhood Education this is an excellent opportunity to pursue your CDA or Bachelor's Degree.
Entry level staff must have a high school diploma, additional education desired but not required. PA Clearances, Finger Prints and current Health appraisal required.
Contact: Jocelyn at 570-344-7989 for more information.
DAILY INSPIRATION
Weekly reading
Weekly reading
Readings for the week of October 24, 2021
© Liturgical Publications Inc
PARISH MINISTRIES
31st Sunday in Ord.Time
10/30/2021 - 4:00 PM
L – Yuschovitz, Beth

S – Perks, Aubrey

S – Perks, David

S – Doran, Paris

EM – Loch, Kermit

EM – Janik, Bob
10/31/2021 - 8:00 AM
L – Wruble, Leann

S – Allardyce, Michael

S – Brogan, Kaitlyn

S – Wruble, Alexis

EM – Loch, Kermit

EM – Janik, Bob
10/31/2021 - 10:00 AM
L – Bartnicki, Patricia

S – Miller, Maddie

S – Ferranti, Cole

S – Ferranti, Mia

EM – Czar, Dave

EM – Jake, Ann
If you have any questions regarding the schedule please call the parish office or Bob Janik at 570-457-1939.
For a full Sept/Oct schedule please see the Ministries section at the top of the page
Anyone who is in 3rd grade or above and has received 1st Eucharist is invited to be an Altar Server.
Please contact the Parish Office - 570-457-3412 for more information.
Jane Maxwell - 570-335-8678

The Women's Guild meets the second Tuesday of each month at 7 p.m. in the Rectory
New Members Always Welcome
Parish Hall
Our parish hall is open and ready to serve you! We still have prime dates available for 2021. Consider

Queen of the Apostles Parish Hal

l for your upcoming graduation, birthday, or any other occasion event needs!
For information, please call Paul at (570) 430-9015 or Kathleen at (570) 457-3412. Thank you!
FAITH FORMATION
Religious Education - Sundays - starting at 9:00 a.m.
There is no gathering in the hall. All students should go directly to their classrooms.
Deborah Yuschovitz - Director of Religious Education
Volunteers are always welcome - Pennsylvania clearances required
Hello, Alpha Youth! High schoolers. We are on a journey. On our first week we began to think "Jesus: Who is he?" The second session is all about the question, why did Jesus die? Although sin has real consequences, Jesus' death and resurrection are the solution to the problem of sin. The cross shows us that God loves us, death has been defeated, the power of sin has been broken and we can have a relationship with our heavenly Father.
We are trying to build on our Mission Statement – "Make Disciples of Jesus Christ and Grow as Disciples of Jesus Christ." We meet on Thursday evenings at 6pm. Hope you can join us. Bring a snack to enjoy. The first few minutes of Alpha are intended to get to know each other. God bless and see you soon, Fr. Phil
View Week 2 video
YOUTH ALPHA - Week 3
What is the best (or worst) thing you've ever made?
Let's give everyone a chance to introduce themselves again.
What's the best or worst thing you've ever cooked/baked?
Have you ever made something in school that you (or your parents) have kept?
Q1 How do you see sin in the world around you?
Where do you see evil in your school, your city, your country, the world? How has sin affected you personally?
Q2 Cross: Why did Jesus die? What does forgiveness mean to you? Think about a time you had to forgive someone. Why did you do it? Why do you think the message of forgiveness is so central to Christianity?
Q3 Did anything from the episode stand out for you? What comes to mind when you think about the cross? When the hosts talked about the four consequences of sin (partition, penalty, power, pollution), which stood out most to you? Why? What do you think about the claim that Jesus is the solution to our problem of sin? How did you feel about the scene at the end with the father and the son?
YOUTH ALPHA - WEEK 4
1. Was there an illustration/story from the message today that stood out to you?
2. Thinking about the portrait of Jesus and the door with no handle on Jesus' side, how do you feel/think about this?
3. What are your earliest memories or impressions of God?
4. The speaker talked about a 'relationship with God.' What does that suggest to you?
5. How would you characterize your relationship with God?
6. When it is said that Christianity will make a change in your character, how do you feel?
7. What is your biggest take away from the message?